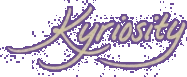 (KE'RE OS'I TE) N., A LONGING TO LOOK
INTO THE THINGS OF THE LORD [C.1996 < GK.
KYRIOS LORD + -ITY; IMIT. CURIOSITY]
Visit The Old Kyriosity Shop

Friday, December 05, 2003 AD

The Olney Hymns
I didn't know this was online! Cool beans!

I've been listening to a sermon that tells a bit of the story of William Cowper, someone I look very much forward to meeting when I have shuffled off this mortal coil. Like me, he suffered from melancholy tending at times to despair. Unlike me, he tried on several occasions to take his own life. Happily, he was unsuccessful. Cowper was in a very despairing state when he died. It always makes me smile to think of all that weight being lifted in an instant when he found himself in the welcoming arms of Jesus.

John Newton was among his chief encouragers. May his tribe increase. And may some members of his tribe take up residence in my neighborhood!
Posted by Valerie (Kyriosity) at 12/05/2003 12:04:00 AM • • Permalink
---
Links to this post:
---
Home