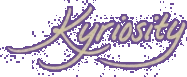 (KE'RE OS'I TE) N., A LONGING TO LOOK
INTO THE THINGS OF THE LORD [C.1996 < GK.
KYRIOS LORD + -ITY; IMIT. CURIOSITY]
Visit The Old Kyriosity Shop

Saturday, December 06, 2003 AD

Anybody Have Kathy Mattea's "Good News" CD?
Can somebody check the credits for the song "Brightest and Best"? I know the words are by Reginald Heber, but I don't know how to credit the tune. Thanks!

UPDATE (Dec. 08): Found it. Printed it. Sang it. Stay tuned for MP3, if the recording worked last night!

UPDATE 2 (Later Dec. 08): Stay tuned a while longer. The ever-so-brilliant person responsible for recording (moi) forgot that the microphone had an ON/OFF switch, so that was a total bust, but now that I've rediscovered it, I suppose I can record stuff any time. It just won't have the energy of a performance before an audience.

P.S. And if you don't have the CD, it's a good'un!
Posted by Valerie (Kyriosity) at 12/06/2003 08:09:00 AM • • Permalink
---
Links to this post:
---
Home