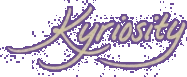 (KE'RE OS'I TE) N., A LONGING TO LOOK
INTO THE THINGS OF THE LORD [C.1996 < GK.
KYRIOS LORD + -ITY; IMIT. CURIOSITY]
Visit The Old Kyriosity Shop

Tuesday, November 18, 2003 AD

Somebody Please Shoot Me If I Ever Become Like This
A review of Love for Sale, by Rachel Greenwald (link from HSC).

Being single and over 35, I well know the temptation to make an idol out of the hope of marriage. But I've never seen husband hunting turned so blatantly into a religion:
Escaping singledom will, Greenwald cautions, be costly in terms of both financial expenditure—she advises establishing a marketing budget of ten or twenty per cent of one's annual income and setting it aside in a bank account labelled "Husband Search"—and time. One client took a year off from work to focus on finding a husband; another was nearly fired because of all the time she was devoting to the project. Humiliation will also be required, particularly when it comes to Step 10, Telemarketing.
Let's see...we've got tithing (or even more sacrificial giving), going ye therefore into all the earth to accomplish the mission, even self-abasement in pursuit of winning the favor of the god. I guess Greenwald's book is the bible.

Seeing this call to whoredom laid out so boldly makes me realize how I need to be on guard against engaging in subtler self-advertising and the worship of false gods.
Posted by Valerie (Kyriosity) at 11/18/2003 11:53:00 AM • • Permalink
---
Links to this post:
---
Home