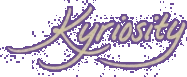 (KE'RE OS'I TE) N., A LONGING TO LOOK
INTO THE THINGS OF THE LORD [C.1996 < GK.
KYRIOS LORD + -ITY; IMIT. CURIOSITY]
Visit The Old Kyriosity Shop

Monday, November 24, 2003 AD

The Heavens Are Telling the Glory of God
Check out these images from the Hubble Telescope. If your monitor resolution is set at 800x600, it's worth the effort to resize it to view this. (Go to your desktop, right click, select Properties, click the Settings tab, move the Screen area slider to at least 1024 by 768.)

All this beauty that eye has not seen in all of human history until these recent years. One wonders if God, who created it all for His glory, hid it from us until this cynical age that we might yet have something to awestrike us.
Posted by Valerie (Kyriosity) at 11/24/2003 10:04:00 AM • • Permalink
---
Links to this post:
---
Home