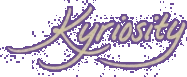 (KE'RE OS'I TE) N., A LONGING TO LOOK
INTO THE THINGS OF THE LORD [C.1996 < GK.
KYRIOS LORD + -ITY; IMIT. CURIOSITY]
Visit The Old Kyriosity Shop

Friday, October 10, 2003 AD

All the Interviews Are Done!
Roy J -- Great great-grandparent stories!
Paul B -- I give him an interview and he gives me a scolding. Sheesh!
Bill C -- Can't remember another conversion story quite like Bill's!
Toni C -- Only 28 pairs of earrings? Amateur!
Jessie -- Too many cheater answers!
John B2 -- Another great story...this time conversion + calling!
Ellen H -- Leather pants?!?!
Posted by Valerie (Kyriosity) at 10/10/2003 07:44:00 PM • • Permalink
---
Links to this post:
---
Home