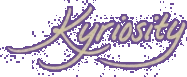 (KE'RE OS'I TE) N., A LONGING TO LOOK
INTO THE THINGS OF THE LORD [C.1996 < GK.
KYRIOS LORD + -ITY; IMIT. CURIOSITY]
Visit The Old Kyriosity Shop

Sunday, September 07, 2003 AD

The Secret Life of Bees
Books like this one make me wish I were capable of writing something intelligent about literature, but since I can't, I'll just try to write something intelligible about my response to it.

The Secret Life of Bees is one of those tales that taps into past pain, drawing it out for reexamination. The best of such stories also give a balm for the pain, but such was not the case here as only a false cure was proffered. Oh, I know..."a willing suspension of disbelief" and what not, but at least give me something interesting over which to suspend my disbelief. Mother goddesses really don't do the trick for me. When the narrative elicited grief over my past, I wanted my Father.

And so the book was of value to me in that turning over the soil of the past makes me trust God in the present. Examining old scars is useful for gauging the extent of the healing process. Whereas once such a story would have ripped open the wounds in such as way as to leave me despairing, as I wept last night I was able to express a deepening faith in the sufficiency of God's grace. True I expressed it through sobs, but that perhaps affirms rather than detracts from the genuineness of my faith. I'm encouraged to see that my Father is transforming me into a more peace-filled, contented and obedient child.
Posted by Valerie (Kyriosity) at 9/07/2003 07:43:00 PM • • Permalink
---
Links to this post:
---
Home