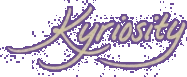 (KE'RE OS'I TE) N., A LONGING TO LOOK
INTO THE THINGS OF THE LORD [C.1996 < GK.
KYRIOS LORD + -ITY; IMIT. CURIOSITY]
Visit The Old Kyriosity Shop

Friday, September 26, 2003 AD

Interview Questions for Toni
1) Describe your earring collection -- quantity, styles, etc. (I like earrings, too!)
2) Uh-oh! You've just been sentenced to a month in solitary confinement. The good news is that you get to listen to music while you're in there. The bad news is that you only get to listen to one music CD. The good news is that you get to pick the music CD. The bad news is that it will be played incessantly -- 24 hours a day -- for the entire term of your imprisonment. What do you pick and why? (No home-burned compilations allowed).
3) Whew! You survived your imprisonment! But you've just found out that the authorities are after you again. (What have you been up to, girl?) Bill has decided to pack the family off to a distant desert island where no one will find you. Who knows how long you'll be there? You've packed everything else and find that you have room for exactly 5 DVDs. Which do you choose and why?
4) Years later, the FBI tracks you down, but there's good news! They're willing to grant you immunity in exchange for your testimony in another case. You agree to the deal. The circumstances are such that you will have to enter the witness protection program after the trial. You have to choose a new name for yourself. Bill says you can choose his new name, too. What names do you pick and why?
5) You move into your new house and start work on a garden. While you're digging one day, your shovel hits a box. There's a hundred thousand dollars in it, along with a note saying, "I, Philpot Q. Schnickelfritz, being of sound mind, but also being just a little eccentric, hereby bequeath the money in this box to whomever might find it. Spend it any way you want." How do you spend it?
Posted by Valerie (Kyriosity) at 9/26/2003 06:00:00 PM • • Permalink
---
Links to this post:
---
Home