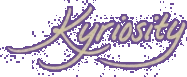 (KE'RE OS'I TE) N., A LONGING TO LOOK
INTO THE THINGS OF THE LORD [C.1996 < GK.
KYRIOS LORD + -ITY; IMIT. CURIOSITY]
Visit The Old Kyriosity Shop

Monday, September 29, 2003 AD

Do You Really Remember What You Remember?
Lucy Zoe's September 29 post, "Will You Remember When You're Older?" reminds me of a memory. My mom was reading to my niece and nephew -- one on either side of her on the couch. As her eyes followed the text down, she kept falling asleep at the bottom of the page. Each time, Becky and Chip, like mirror-image bookends, would lean forward and turn their heads to look at their Grandmom.

I have this image so strongly in my mind's eye, and it's one of those family stories that gets told over and over and still gets lots of laughs (it's better when told in person so you can mimic the players), but I'm not sure if I actually witnessed it. I think I must have. I think I was the one who kept waking her up between pages. But maybe the kids woke her up, and she just told me the story later.

Sometimes we don't have the memories we think we have...we just have memories of the memories. And sometimes we don't know if we remember what we remember.
Posted by Valerie (Kyriosity) at 9/29/2003 03:28:00 PM • • Permalink
---
Links to this post:
---
Home