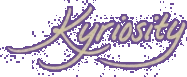 (KE'RE OS'I TE) N., A LONGING TO LOOK
INTO THE THINGS OF THE LORD [C.1996 < GK.
KYRIOS LORD + -ITY; IMIT. CURIOSITY]
Visit The Old Kyriosity Shop

Tuesday, August 19, 2003 AD
What I Did On My Summer Vacation


Kitty Kitty
1989ish to August 18, 2003


She did "not go gentle into that good night" but raged, raged against the sticking of a needle into her backside. My left elbow looks like a pincushion where she bit me several times and my right wrist looks like I tried to off myself where she got me with her back claws. I slapped on some Harry Potter bandaids (don't laugh! they were on sale!), one of which had Fawkes on it. Perhaps he shed a tear or two for quicker healing. After we did the deed, I took Debbie out to dinner to say thanks, and then we came back to my house and watched "K-PAX", which was very sweet. She left at around 10, and I headed off to bed, but of course I couldn't sleep. I got back up twice...flipped channels, ate the leftovers from dinner, cried...finally was able to sleep after about 1 o'clock.

My last kitty, Studley (he came with that absurd moniker and was quite unequipped for the service for which he was named), died in 1987. He was a sweet, wonderful pet. So why am I so much more miserable over the demise of this nasty, evil beast than I was over him? Perhaps because I was so much more responsible for her than for Studley. Perhaps because I feel guilty about the rage I was in the night before. Perhaps because it wasn't so clear that this was the right thing to do this time (though Debbie and a few others assured me it was). Perhaps because I'm 16 years older. Perhaps because I watched a big, fat syringe full of phenobarbital pumped into her heart (the backside needle was to knock her out so she wouldn't feel this) rather than just dropping her off at the vet's. At any rate, I'm a pretty sad critter today. God's grace is sufficient, to be sure, and I'm not grieving to the point of despair, but I'm sad.
Posted by Valerie (Kyriosity) at 8/19/2003 11:47:00 AM • • Permalink
---
Links to this post:
---
Home