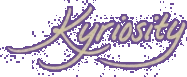 (KE'RE OS'I TE) N., A LONGING TO LOOK
INTO THE THINGS OF THE LORD [C.1996 < GK.
KYRIOS LORD + -ITY; IMIT. CURIOSITY]
Visit The Old Kyriosity Shop

Thursday, August 14, 2003 AD

Dial-Up...Ugh!
I'm posting from my cousin's house. I'd forgotten how very, very slow the Internet can be. I'm such a spoiled brat. My heart goes out to those of you who have no other choice.

My usually eight-hour drive up to NH turned into an 11-hour trek. The first 150 miles or so went by at a snail's pace of less than 40 mph. And my world-renowned directional sensibilities kicked in. If there was a wrong exit to be taken, you can be sure that my keen eye found and took it. Many thanks to the two young guys at the Burger King somewhere in New Jersey who pointed me back to the Turnpike. I still managed to miss it and drive 70 miles out of my way, mind you, but I was grateful to them none the less.

So far on my vacation I've been watching movies ("The Royal Tenenbaums," "Catch Me If You Can" and "The Importance of Being Earnest") listening to HP5, and sewing with my mom. Haven't cracked a book all week, lazy beast that I am, but sewings easier to do while watching and listening. Mom and I popped down to my cousin's to babysit his two youngest. I was planning to read while we were here...really I was...but then Randy asked if I wanted to go online and, well, you can guess the rest!

I'll be leaving tomorrow for home via Williamsport, Pa. This will be the second time I've managed to land tehre on Little League World Series weekend. They're calling it the Cal Ripken series. How's this: I'm from Ripken's team's town, I've been in Keene, N.H., two days in a row (one of the teams playing in the series is from Keene) and I'll be in Williamsport tomorrow. And I don't even follow hockey!
Posted by Valerie (Kyriosity) at 8/14/2003 07:01:00 PM • • Permalink
---
Links to this post:
---
Home