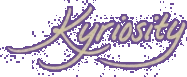 (KE'RE OS'I TE) N., A LONGING TO LOOK
INTO THE THINGS OF THE LORD [C.1996 < GK.
KYRIOS LORD + -ITY; IMIT. CURIOSITY]
Visit The Old Kyriosity Shop

Monday, July 21, 2003 AD
Playing 'Possum

You're an opossum...a dreamy homebody who has trouble rousing herself from her stupor, wandering aimlessly straight into trouble. Wake up from your slumber, and walk circumspectly (Ephesians 5:14-15).

What Kind of Road Kill Are You?
brought to you by Quizilla



Opossums are extraordinarily stupid creatures. An opossum will walk into a wall keep moving it's legs for a bit. Once it figures out it's not getting anywhere, it will back up. And then it will proceed to move straight ahead again, right into the same wall. Yes, that about sums up my approach to life -- keep doing the same thing over and over again, expecting different results. On the plus side, 'possums are very adaptable and are distributed very widely in the Americas. They can survive in a pretty wide range of habitats -- from the deep woods to the big city -- and in a variety of climates.

But mostly they're just dumb as mud.

My blog appears to have ceased playing 'possum.
Posted by Valerie (Kyriosity) at 7/21/2003 11:20:00 PM • • Permalink
---
Links to this post:
---
Home