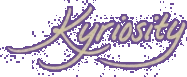 (KE'RE OS'I TE) N., A LONGING TO LOOK
INTO THE THINGS OF THE LORD [C.1996 < GK.
KYRIOS LORD + -ITY; IMIT. CURIOSITY]
Visit The Old Kyriosity Shop

Monday, June 02, 2003 AD

Things I'll Never Forget About Howard and Ali's Wedding
Looking at the pictures again, I'm reminded of a couple exceedingly memorable moments that made for a palpably joyous occasion:

+ When the pastor finished his "Wilt thou Howard, take this woman to be thy lawful wedded wife, etc., etc., yadda, yadda," question, Howard answered, "Sure 'nuff, Bishop!"
+ I think that's the longest, most thorough wedding kiss I've ever witnessed. Finally the pastor said, "OK, now, that's as far as you can go here!"
Posted by Valerie (Kyriosity) at 6/02/2003 05:51:00 PM • • Permalink
---
Links to this post:
---
Home