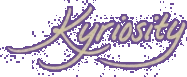 (KE'RE OS'I TE) N., A LONGING TO LOOK
INTO THE THINGS OF THE LORD [C.1996 < GK.
KYRIOS LORD + -ITY; IMIT. CURIOSITY]
Visit The Old Kyriosity Shop

Friday, June 27, 2003 AD

Free Hymnals
First free hymnal: A few months ago I pointed out to my pastor that he'd left his old original Trinity hymnal in the church parlor, and teasingly added that he should remove it, as I was tempted to break the eighth commandment since I didn't own a copy. So he said, "Oh, I have another one, you can have it."

Second free hymnal: Our pastoral intern is leaving for Chicago in less than two weeks (WAAAAAAHHH!!!). I'd borrowed a copy of The Hymnal (1933 PCUSA edition, 1962 printing -- a bit pretentious, innit, to call it just "The Hymnal"?) from his office a while back and said to him a couple weeks ago, "I'd better give this back to you before I forget." He replied, "Oh, go ahead and keep it...I have another copy."

Third free hymnal: Jon A's sending me a Cantus Christi for some exceedingly minimal work I did on his blog. I'm almost too embarrassed to accept it, but by hymnalaholism is stronger than my sense of shame!
Posted by Valerie (Kyriosity) at 6/27/2003 11:16:00 AM • • Permalink
---
Links to this post:
---
Home