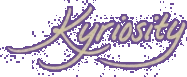 (KE'RE OS'I TE) N., A LONGING TO LOOK
INTO THE THINGS OF THE LORD [C.1996 < GK.
KYRIOS LORD + -ITY; IMIT. CURIOSITY]
Visit The Old Kyriosity Shop

Monday, June 23, 2003 AD

For Daniel S, Who's Been Complaining About the Weather
A local fellow died recently and found himself waiting in the long line of judgment. As he stood there he noticed that some souls were allowed to march right through the pearly gates into Heaven but others were led over to Satan who threw them into the burning pit. However, every so often, instead of hurling a poor soul into the fire, Satan would toss a soul off to one side into a small pile.

After watching Satan do this for a while, the local fellow went over to Satan and said, "Excuse me, Mr. Prince of Darkness, I'm waiting in line for judgment, but I can't help wondering...why are you tossing some of those people aside instead of flinging them into the Fires of Hell with the others?"

"Ah, those...," Satan said with a groan, "...are from Delaware and Maryland and they're still too wet to burn."

Bad theology, but good humor for soggy souls.
Posted by Valerie (Kyriosity) at 6/23/2003 03:26:00 PM • • Permalink
---
Links to this post:
---
Home