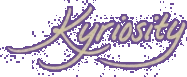 (KE'RE OS'I TE) N., A LONGING TO LOOK
INTO THE THINGS OF THE LORD [C.1996 < GK.
KYRIOS LORD + -ITY; IMIT. CURIOSITY]
Visit The Old Kyriosity Shop

Saturday, May 10, 2003 AD

On Second Thought...
I got home last night to find an NSF notice from the bank. (Yay for overdraft protection!) But I think I'll take that as a sign that I really can't afford to be buying any illuminated manuscripts. And of course it would be nice if I did things like got new windows installed so i could paint the walls before I hang any more pricy artwork on them!

In the meantime, perhaps I should stick to my own crayon calligraphy (click for the full images):


The one on the left, which hangs in my living room, is a paraphrase of something I heard in a sermon a few years ago when I was much in need of assurance of grace. It seemed an appropriate indulgence to color with crayons on an expensive sheet of parchment. The one on the right, which hangs outside my cubicle at work, I did one evening when I'd invited a friend over for dinner. A former art teacher, she was complaining that she hadn't done anything creative in ages. So when she arrived, I announced that we were having kindergarten. We ate PB&J sandwiches and had fun with crayons and gel pens and paper and scissors.
Posted by Valerie (Kyriosity) at 5/10/2003 12:22:00 PM • • Permalink
---
Links to this post:
---
Home