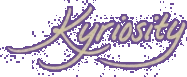 (KE'RE OS'I TE) N., A LONGING TO LOOK
INTO THE THINGS OF THE LORD [C.1996 < GK.
KYRIOS LORD + -ITY; IMIT. CURIOSITY]
Visit The Old Kyriosity Shop

Thursday, May 08, 2003 AD

Hab You Seed By Face?
Just got back from three hours at the dentist's. I react strangely to Novocain -- get the shakes. Then I went to McDonald's and got another shake.

UPDATE, 4:54 P.M.: OK, the Novocain has worn off and, having skipped breakfast and been forbidden lunch, I am now hungry!
Posted by Valerie (Kyriosity) at 5/08/2003 02:14:00 PM • • Permalink
---
Links to this post:
---
Home