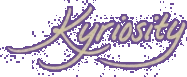 (KE'RE OS'I TE) N., A LONGING TO LOOK
INTO THE THINGS OF THE LORD [C.1996 < GK.
KYRIOS LORD + -ITY; IMIT. CURIOSITY]
Visit The Old Kyriosity Shop

Saturday, May 03, 2003 AD

And the Winner Is...
The Dane! Or someone else on cox.net who uses Seth's link page and visited my blog at 2:23:39 Eastern this morning. No prizes except the great honor of being my 15,000th visitor since I installed SiteMeter on October 9.

Thank you to everyone who visits and reads and comments!
Posted by Valerie (Kyriosity) at 5/03/2003 10:40:00 AM • • Permalink
---
Links to this post:
---
Home