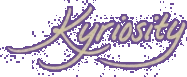 (KE'RE OS'I TE) N., A LONGING TO LOOK
INTO THE THINGS OF THE LORD [C.1996 < GK.
KYRIOS LORD + -ITY; IMIT. CURIOSITY]
Visit The Old Kyriosity Shop

Wednesday, April 30, 2003 AD

Well That Was No Fun!
Earlier today I made a change to all of my template files for my work website, then republished all the html files on the site. Then I discovered that all of my template files had some corrupted code. Not from the work I'd done earlier, but from something unknown -- every single file path was wonky, and they weren't all wonky in the same way. Man, if this was a test of patience, I sure failed with flying colors (as I do with most tests of patience). Total panic. A harrowing 90 minutes or so. But I think I've got everything back in working order now. My eyelid's already been twitching from stress for a couple days. This has not served to rectify that problem!

Now for a reality check: God is sovereign over everything. This includes html coding. This includes corrupt html coding. This includes my corrupt html coding. So there really wasn't any reason for going ballistic over it, now was there? Right. Also, God is sovereign over the process of my sanctification. He will complete the good work He's begun in me, but it's obviously not done yet. So there's really no reason to despair over the sins of the day, now is there? Right.

OK, now I return me to my regularly scheduled work.
Posted by Valerie (Kyriosity) at 4/30/2003 06:05:00 PM • • Permalink
---
Links to this post:
---
Home