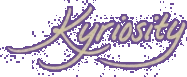 (KE'RE OS'I TE) N., A LONGING TO LOOK
INTO THE THINGS OF THE LORD [C.1996 < GK.
KYRIOS LORD + -ITY; IMIT. CURIOSITY]
Visit The Old Kyriosity Shop

Friday, April 25, 2003 AD

Thanks, Mr. Neocalvinist!
Gideon sent me a selection from my wish list for "broadening his blog's horizons." Giftwrapped, even...pretty schnazzy!

And how's this for a nice little business practice from Amazon? I got an extra jewel case with a note saying, "This CD's jewel case was damaged in transit from the distributor to our fulfillment center. Rather than delay your order by waiting for a replacement copy, we've enclosed a new jewel case for your use, free of charge."

OK, now go away, everybody...I want to listen to my new CD!
Posted by Valerie (Kyriosity) at 4/25/2003 01:05:00 PM • • Permalink
---
Links to this post:
---
Home