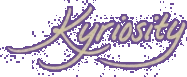 (KE'RE OS'I TE) N., A LONGING TO LOOK
INTO THE THINGS OF THE LORD [C.1996 < GK.
KYRIOS LORD + -ITY; IMIT. CURIOSITY]
Visit The Old Kyriosity Shop

Tuesday, April 22, 2003 AD

Testing a Theory
I have long held that nothing makes the comments count soar like a post about food. And since I've had a couple of food-related thoughts lately, I thought they'd serve as material for a test post to continue research on my theory.

A) Yogurt: Do you prefer pre-stirred or fruit on the bottom? Why? What are your favorite flavors and/or favorite brand?
2) Cookies: I prefer ginger snaps to chocolate chip cookies. Is this an excommunicable offense*? Discuss.

Have at it!

*I mean in the UCC (United Chocoholics Church), of course.
Posted by Valerie (Kyriosity) at 4/22/2003 04:41:00 PM • • Permalink
---
Links to this post:
---
Home