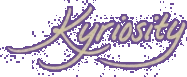 (KE'RE OS'I TE) N., A LONGING TO LOOK
INTO THE THINGS OF THE LORD [C.1996 < GK.
KYRIOS LORD + -ITY; IMIT. CURIOSITY]
Visit The Old Kyriosity Shop

Friday, April 04, 2003 AD

Sorry, Davey, You'll Have to Recategorize Me
According to Davey's blog roll, I'm a Numenorean. According to this test, I am...




Of course the last such test I took pegged me as a Hobbit, so there could be a problem with the testing instrument. Or maybe I'm just confused. What do y'all think I am?
Posted by Valerie (Kyriosity) at 4/04/2003 02:06:00 PM • • Permalink
---
Links to this post:
---
Home