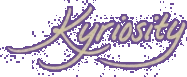 (KE'RE OS'I TE) N., A LONGING TO LOOK
INTO THE THINGS OF THE LORD [C.1996 < GK.
KYRIOS LORD + -ITY; IMIT. CURIOSITY]
Visit The Old Kyriosity Shop

Monday, April 14, 2003 AD

Sabbath-Keeping
In a comment regarding my deleted post, which was somewhat, but not entirely, about Sabbath-keeping, Denise asked about my Sabbath observance. I will endeavor to indulge her curiosity.

First of all, my example as a whole is not one that should be followed -- I'm a very shabby Shabbatarian. I do not spend the day as restfully as I ought, nor are my thoughts as devoted to spiritiual things as they should be.

As for my practice of not eating out, shopping, etc. on Sundays, I see it as a justice issue. I would be saying to the people serving me in the store or restaurant, "I would rather you were here today serving me than spending your day in worship and rest." I'm also saying to to the culture that has made shopping, etc., on Sunday commonplace, that it's OK with me. Furthermore, that encourages an atmosphere in which Christians who wants a job in retail service may either be passed over for a position if they refuse to work on Sundays, or be pressured into working on Sundays. Having been in that position, I am perhaps more sensitive to it. (As an aside, I have a friend -- a single mom of three -- who would very much like to switch from night-shift to day-shift at her post office job, but would have to work Sundays if she did. I honor her for that sacrificial choice!)

Am I perfectly consistent? Of course not. I turn on lights -- someone has to be at work at the power company. I use the phone -- somebody has to be at work at the phone company. I stop for food or gas when traveling on Sundays -- someone has to be at work at the service station. And sometimes I even let certain people drag me out to lunch after church. So I'm not any kind of holier-than-thou on this issue, I'm just trying to follow my conscience.
Posted by Valerie (Kyriosity) at 4/14/2003 06:41:00 PM • • Permalink
---
Links to this post:
---
Home