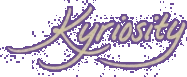 (KE'RE OS'I TE) N., A LONGING TO LOOK
INTO THE THINGS OF THE LORD [C.1996 < GK.
KYRIOS LORD + -ITY; IMIT. CURIOSITY]
Visit The Old Kyriosity Shop

Sunday, April 06, 2003 AD

A Poem from June 2000 (I Think)

I tried to explain about the night-blooming cereus,
But to eyes indisposed to beauty
This rarity warrants no more than a polite nod
To an eccentric spinster neighbor.

A draught from a cigarette is preferred
Over sweet sips from this fragile cup;
The dish on a jealous girlfriend,
Over nourishment from this exquisite vessel.

The common you will have with you always
But this flower will be gone tomorrow.
Do not harden you hearts.
Posted by Valerie (Kyriosity) at 4/06/2003 08:21:00 PM • • Permalink
---
Links to this post:
---
Home