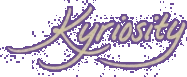 (KE'RE OS'I TE) N., A LONGING TO LOOK
INTO THE THINGS OF THE LORD [C.1996 < GK.
KYRIOS LORD + -ITY; IMIT. CURIOSITY]
Visit The Old Kyriosity Shop

Friday, April 11, 2003 AD

Pørn Culture
"Hefner's Playmates -- and, in the culture he has done so much to shape, all women -- are primarily visual objects, metaphysically truncated to their improbable physical attributes. Among the consequences: all female rock stars are now obliged to be beautiful, contributing to a dearth of quality female vocalists -- not because women can't sing, but because pørnøgraphic culture won't allow any but the most beautiful women to get on the stage. The same is true for female newscasters and waitresses, but the irony is doubly poignant in the music industry, where the melodious sound of someone's voice may never get to your ears because they lack the visual appeal required by mass marketing. If the future sounds like Britney Spears, then please, give us back Janis Joplin, Mamma Cass, and Barbara Streisand." (From a re:generation article on pørnøgraphy; link via Rick C.)

(And don't for a second think that the so-called Christian music industry is immune from this.)

The whole article is good. Reminds me of something Greg Krehbiel wrote a while back: "When the public expression of sexuality is limited, even a homely woman has something valuable to offer her husband. But when sexuality is paraded all over the place, even attractive women are at a disadvantage." Far from being deceitful and vain, charm and beauty -- and a perverted, plasticized parody thereof, at that -- are now the be-all and end-all of a woman's value in American culture.
Posted by Valerie (Kyriosity) at 4/11/2003 03:55:00 PM • • Permalink
---
Links to this post:
---
Home