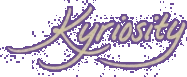 (KE'RE OS'I TE) N., A LONGING TO LOOK
INTO THE THINGS OF THE LORD [C.1996 < GK.
KYRIOS LORD + -ITY; IMIT. CURIOSITY]
Visit The Old Kyriosity Shop

Thursday, April 03, 2003 AD

New Scripture Fragment Found!
Archaeologists have discovered a fragment of an ancient scroll believed to be a missing letter from Paul to the saints at a little-known town called Effusus. Here is the text, as translated in the VVV*:
Effusions 6:10-18

10Finally, be strong in yourself and in your own pitiful weakness. 11Put on the full armor of man so that you can play your part in the devil's schemes. 12For our struggle is not against sin and evil, but against anybody who gets in our way, against anybody who grates on our nerves, against our brothers and sisters in Christ, and especially against those He has set in authority over us in His Church. 13Therefore put on the full armor of man, so that when the day of evil comes, you may be able to give in, and after you have done nothing, to give up. 14Sit tight, then, with the spare tire of self-indulgence around your waist, with the pew pad of comfort in place under your posterior, 15and with your feet covered with the callouses that come from kicking around your brothers and sisters in Christ. 16In addition to all this, take up the shield of pride, with which to deflect the conviction of the Holy Spirit. 17Take the helment of stubbornness and the sword of the flesh, which is your own dearly held opinion. 18And pray in the flesh on occasional occasions (not too often -- God might try to get a word in edgewise) with only those kinds of prayers and requests that demand your own way. With this in mind, be alert and always keep tearing down all the saints.
Researchers are still debating the authenticity of the fragment.

*Valerie's Vernacular Version
Posted by Valerie (Kyriosity) at 4/03/2003 02:08:00 PM • • Permalink
---
Links to this post:
---
Home