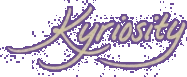 (KE'RE OS'I TE) N., A LONGING TO LOOK
INTO THE THINGS OF THE LORD [C.1996 < GK.
KYRIOS LORD + -ITY; IMIT. CURIOSITY]
Visit The Old Kyriosity Shop

Saturday, April 26, 2003 AD

Meeting Dead Chicken Berry
Paulo and I are holding a race to see who can report first on last night's goings-on.

Brian and Stacey hosted a little get-together for some bloggers (Paulo O, Daniel S, me) former bloggers (Wayne W), and sundry other friends (Gordon and Other Brian from B&S's church; Carly, a longtime friend of Stacey; Dave, a member of Christ Presbyterian Church, whom Brian met at a conference; Amy, a friend of Paulo's from MICA). (Paulo, Other Brian and Carly are all, incidentally, also MICA students.) Harrison put in an early appearance before bedtime, and Wayne was the party pooper -- leaving a little after 9, just when things were starting to get fun. (Or maybe that's why things started to get fun? Kidding!!!)

The highlight of the evening was meeting Dead Chicken Berry in the flesh...er...rubber. DCB was much smaller than most of us expected. Paulo was blessed with a sneak preview of a broader range of DCB's exploits while the rest of us waited, more or less patiently, for him and Brian to come back downstairs so we could finish the game of Cranium we were playing. Team Awesome (Dave, Gordon, Other Brian and yours truly) finally won. If you ever get a chance to play this game, just remember that Stonehenge is the answer to every Scuplturade, that it is impossible to successfully charade the word hormones, and that hippopotamus has two Os, not two As.

Good food, good conversation (theological and otherwise), and a good time were had by all. Thanks, Davises, for your hospitality! OK, Paulo's finished his entry, so I'll post mine and go check out his.
Posted by Valerie (Kyriosity) at 4/26/2003 11:29:00 AM • • Permalink
---
Links to this post:
---
Home