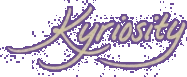 (KE'RE OS'I TE) N., A LONGING TO LOOK
INTO THE THINGS OF THE LORD [C.1996 < GK.
KYRIOS LORD + -ITY; IMIT. CURIOSITY]
Visit The Old Kyriosity Shop

Tuesday, March 11, 2003 AD

Welcome New Bloggers!
Longtime forum friends John R. and Kelly C. have come over to the dark side in recent days. Another friend, Steve B., had threatened to, but so far, it's just been an empty promise.

Update: Yet another friend, Mike M. (Mac, if you're reading this, I had to stop and rack my brains a bit to think of your real first name!), is also teasing us with promises of a forthcoming blog.

Another Update: Steve B. is up and running now! OK, Mac...the pressure's on you.
Posted by Valerie (Kyriosity) at 3/11/2003 09:46:00 AM • • Permalink
---
Links to this post:
---
Home