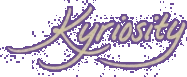 (KE'RE OS'I TE) N., A LONGING TO LOOK
INTO THE THINGS OF THE LORD [C.1996 < GK.
KYRIOS LORD + -ITY; IMIT. CURIOSITY]
Visit The Old Kyriosity Shop

Thursday, March 20, 2003 AD

So Nobody Has Any Ideas Re My Blogger Problems?
I have not been able to republish my template for weeks -- about since the Google thing, so that may have something to do with it. This is not the usual 503 error. I get no useful error message, just [more info], which is two years old and completely useless. I really don't want to have go through the bother of switching to Moveable Type, but I can't not have access to my template -- my blog roll is woefully out of date. (I wish my reading list were woefully out of date, but I'm too slow a reader.)

Anyway, I'm wondering if there's some bad code in my template that Blogger's rejecting. If some savvier person could take a look, I'd be grateful. I'll send my password to any volunteers. Well...maybe not any volunteers, but at least ones I trust.

Is anybody else having this problem?
Posted by Valerie (Kyriosity) at 3/20/2003 05:44:00 PM • • Permalink
---
Links to this post:
---
Home