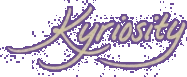 (KE'RE OS'I TE) N., A LONGING TO LOOK
INTO THE THINGS OF THE LORD [C.1996 < GK.
KYRIOS LORD + -ITY; IMIT. CURIOSITY]
Visit The Old Kyriosity Shop

Saturday, March 15, 2003 AD

More "Upstairs-Downstairs" Trivia
• There was a series spinoff in 1979 -- "Thomas and Sarah."
• Lily, under-house parlourmaid in the season 5, was played by Karen Dotrice, who played Jane Banks in "Mary Poppins." That one drove me crazy the first time I watched the series. I knew I'd seen her before, but of course kept trying to picture the adult version of her. Finally it hit me that I was remembering the child version.
• Jean Marsh (Rose) was Queen Bavmorda in "Willow."
• Jaqueline Tong (Daisy) was Mrs. Hunt in "Princess Caraboo." I don't remember either this appearance or the previous, but I've seen both.
• Meg Wynn Owen (Hazel) was Mrs. Lewis in "Gosford Park." I haven't seen "Gosford Park," but I wanted to remember this in case I ever did.
• Robery Hardy, who was Siegfried Farnon in "All Creatures Great and Small" and the ever-winkling Sir John Middleton in "Sense and Sensibility," played Sir Guy Paynter in an episode in season 5.
• And of course just about every cast member I looked up was on "Dr. Who" at one point or another, not to mention various and sundry other BBC productions.
Posted by Valerie (Kyriosity) at 3/15/2003 04:06:00 PM • • Permalink
---
Links to this post:
---
Home