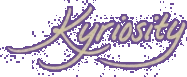 (KE'RE OS'I TE) N., A LONGING TO LOOK
INTO THE THINGS OF THE LORD [C.1996 < GK.
KYRIOS LORD + -ITY; IMIT. CURIOSITY]
Visit The Old Kyriosity Shop

Wednesday, March 26, 2003 AD

An Item for the "Things I Regret Buying" List
Having enjoyed the Harry Potter tales thusfar, I was amused to find "Bertie Bott's Every Flavor Beans" in the StuffMart today. Stupidly, I did not look carefully at the packaging before impulsively tossing it on my pile of purchases. As in the stories, these come in some strange flavors. I'm grateful for the chart that shows what's what. Trust me, you do not ever want to eat sardine or spinach flavored jelly beans. There were other things more nefarious. I'm not in the habit of throwing away food, but there's no way I'm eating booger or vomit flavored anything. The normal flavors -- cherry, bubble gum, etc. -- are regular jelly bellys, so the purchase wasn't a total loss, but it's not one I'll ever repeat. Bertie Bott's Beans make a cute literary item, but their appearance in the real world is really rather disturbing.

On a related note, when you get in the 10 items or less lane with exactly 10 items, are you allowed to add other items that you've picked up in the aisle itself? This struck me as a great moral dilemma, and I posed the question to the young gentleman behind the cash register. He informed me that since his was the only open register, it didn't matter. Unfortunately, that leaves the question unanswered.
Posted by Valerie (Kyriosity) at 3/26/2003 08:04:00 PM • • Permalink
---
Links to this post:
---
Home