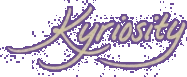 (KE'RE OS'I TE) N., A LONGING TO LOOK
INTO THE THINGS OF THE LORD [C.1996 < GK.
KYRIOS LORD + -ITY; IMIT. CURIOSITY]
Visit The Old Kyriosity Shop

Thursday, February 13, 2003 AD

Thanks!
...to Bill, for the CD, which is playing now. I went straight to track 16, of course. Now I'm on 17. Talk about going from the sublime to the ridiculous! Which one are you in the photo?
...to the Garvers for sending me a Valentine's Day card.
...to my mommy for sending me a dish cloth and the pattern to make my own. These are really great dish cloths and I'd managed to wear out a couple I already had. Now if only I can remember how to knit.
...to Pentamom for telling me how to fix that thing in Windows without all the smartalecky comments I got from Teed and Moose.
...to Joan, for reading my blog sometimes, even though she never comments because she doesn't really love me. ;-)
...to everybody else, for putting up with such a silly blog entry.
Posted by Valerie (Kyriosity) at 2/13/2003 08:37:00 PM • • Permalink
---
Links to this post:
---
Home