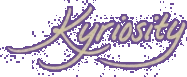 (KE'RE OS'I TE) N., A LONGING TO LOOK
INTO THE THINGS OF THE LORD [C.1996 < GK.
KYRIOS LORD + -ITY; IMIT. CURIOSITY]
Visit The Old Kyriosity Shop

Tuesday, February 18, 2003 AD

Hooray for Amos and Lawrence!
The two young gentlemen in question are my stalwart shovellers, who earned their fifteen bucks a piece yesterday (plus homemade chocolate chip cookies and the loan of my shovel for their next couple jobs) in digging my house out from the biggest snowfall in Baltimore's history. I finally got brave enough to venture out this afternoon, and of course headed straight for the church office to visit my poor lonely 'puter. I'm quite stir crazy otherwise. I've called just about everyone I know (except Paulo, whose phone has been perpetually busy), including my 15-year-old nephew, who brilliantly held up his end of the conversation with a perpetual stream of un-huhs. That boy is impossible!

I've watched at least half a season of Upstairs Downstairs, and I'm getting tremendously bored with that. The series' inconsistency with characters might not be so appallingly glaring if one were watching it over a period of months or years, but when one is swallowing large doses in such a brief period, one rather wants to smack around a few writers a bit! Of course I'll still take it over most of the trash on broadcast TV these days. I've done a little bit of reading, too, but somehow it's hard to focus when one is restless as I have been. I'd be fine if there were just a bit of snow and I was choosing to stay in, but knowing I'm trapped has made me a bit jittery. Well, I suppose too many chocolate chip cookies have had some effect, too! ;-)

Now I'd better scram and get back home before the sun sets and I can't see well enough to navigate the narrow path into my driveway.
Posted by Valerie (Kyriosity) at 2/18/2003 05:52:00 PM • • Permalink
---
Links to this post:
---
Home