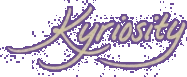 (KE'RE OS'I TE) N., A LONGING TO LOOK
INTO THE THINGS OF THE LORD [C.1996 < GK.
KYRIOS LORD + -ITY; IMIT. CURIOSITY]
Visit The Old Kyriosity Shop

Thursday, January 23, 2003 AD

A Tour of My Library
Davey started this topic, so it really isn't fair for me to steal it, but I thought it was kinda fun, so I copied my comments from there to make a post here. Recycling...that's what I seem to have time for these days!

Five book cases -- clockwise from the south wall:

Fiction alpha by author


Children's picture books however they fit best on the shelf


Ditto with art books


Journals on a shelf by date


Bibles on a shelf by size


Bible study materials (small group study guides and the like) however they fit on the shelf


Old textbooks in I have no idea what order on one shelf


Reference by category -- non-English languages, dictionaries and thesauri, etc.


General nonfiction by author


Commentaries by set (OK, so I only really have one set), then in book order


The complete works of Mark Twain (which I have not read, but acquired somewhere along the way)


An ancient (1969?) set of World Book encyclopedias
And of course there's a good-sized mish-mash of almost all categories scattered singly or in piles throughout the house. On the stairs, in particular, sit a load of my grandmother's old books -- all fiction -- gleaned mostly at whim from the zillions she had. It didn't seem prudent at the time to take them all, since I knew I'd never read them all, but it's soooo hard to pass on free books!

And there's almost always a few books on the other side of the bed -- Bible, hymnal, prayer book, whatever else I happen to be reading. I once said something to my mother about "my side of the bed" and she went a little apoplectic on me -- "What do you mean your side of the bed? Who's on the other side?" -- I hastily explained about the books and assured her that there was no one else (especially not of the male persuasion) on the premises! Does anyone else do this? I have one friend who has confessed to the habit. I generally think it's not a bad habit, as habits go. At least not until the dictionary or the one-volume Matthew Henry falls off and thuds on the floor in the middle of the night!
Posted by Valerie (Kyriosity) at 1/23/2003 05:35:00 PM • • Permalink
---
Links to this post:
---
Home