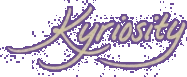 (KE'RE OS'I TE) N., A LONGING TO LOOK
INTO THE THINGS OF THE LORD [C.1996 < GK.
KYRIOS LORD + -ITY; IMIT. CURIOSITY]
Visit The Old Kyriosity Shop

Wednesday, January 15, 2003 AD

Questions for the Day
Is it terribly silly for a 35-year-old woman to wear her hair in two pigtails?

Would it stop me from doing so if it were?

How many people will call me Pocahontas today?

How many times did my mom braid my hair during the several years of childhood I wore it this way?

What percentage of those times did I end up hollering 'cuz she pulled too hard with the comb?
Posted by Valerie (Kyriosity) at 1/15/2003 05:32:00 PM • • Permalink
---
Links to this post:
---
Home