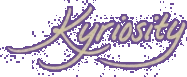 (KE'RE OS'I TE) N., A LONGING TO LOOK
INTO THE THINGS OF THE LORD [C.1996 < GK.
KYRIOS LORD + -ITY; IMIT. CURIOSITY]
Visit The Old Kyriosity Shop

Thursday, January 16, 2003 AD

"My Power Is Made Perfect in Weakness"
OK, Lord, I'm giving you a lot of weakness to work with here!

As I've mentioned before, I at times have a lot of trouble sleeping. It comes and goes, but right now I'm really exhausted. In the past week or so, there have been several nights when I've been awake for 2-4 hours in the middle of the night, unable to return to sleep. With the computer out of the house, I've been using that time more profitably than I used to -- reading and praying rather than surfing and playing. Sunday night, I had finished a chapter about 2 Corinthians 12:9 in a book I'd been reading before I went to bed. When I was awake from 2-5 a.m., instead of whining about how much I needed sleep, I reflected on that verse and asked God to use my physical weakness (not much, I know, compared to the suffering of many) to reveal His power in my life. I'll let y'all know if anything dramatic happens. ;-)

Also, this kind of exhaustion can feel an awful lot like depression (and can trigger depression). I'm hoping to stay out of that pit. Prayers would not be unappreciated.
Posted by Valerie (Kyriosity) at 1/16/2003 12:07:00 PM • • Permalink
---
Links to this post:
---
Home