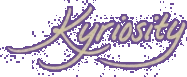 (KE'RE OS'I TE) N., A LONGING TO LOOK
INTO THE THINGS OF THE LORD [C.1996 < GK.
KYRIOS LORD + -ITY; IMIT. CURIOSITY]
Visit The Old Kyriosity Shop

Thursday, January 23, 2003 AD

Another Chapter in Valerie's Editing Adventures
In the midst of some of the more hideous editing projects I must undertake, I do at least find some small pleasure in undoing the pseudo-nonsexist writing I often come across. I can't get away with the generic he, but at least I can do away with the generic she.

Oh. Excuse me. This author does use the generic he -- when referring to a "bad guy."

Valerie rolls her eyes.
Posted by Valerie (Kyriosity) at 1/23/2003 06:58:00 PM • • Permalink
---
Links to this post:
---
Home