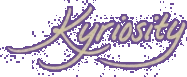 (KE'RE OS'I TE) N., A LONGING TO LOOK
INTO THE THINGS OF THE LORD [C.1996 < GK.
KYRIOS LORD + -ITY; IMIT. CURIOSITY]
Visit The Old Kyriosity Shop

Monday, December 30, 2002 AD

Thank You!
It was almost worth coming back to work today to find presents waiting for me! Paulo sent me three Christmas gifts and Kelly sent me two presents.

Also, I forgot to mention that both Brian and Daniel brought wine on Saturday (Note to self: buy a corkscrew!) and Joel and Laurel brought some munchies and sodas and a homemade bottle of herbed vinegar -- one of those things that's almost too pretty to use, but I think I'll get over it. ;-)

Thanks, friends, for your kind generosity!
Posted by Valerie (Kyriosity) at 12/30/2002 11:35:00 AM • • Permalink
---
Links to this post:
---
Home