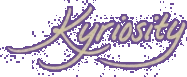 (KE'RE OS'I TE) N., A LONGING TO LOOK
INTO THE THINGS OF THE LORD [C.1996 < GK.
KYRIOS LORD + -ITY; IMIT. CURIOSITY]
Visit The Old Kyriosity Shop

Thursday, December 12, 2002 AD

My Eschatology
+ "I believe...He shall come to judge the quick and the dead."
+ "Therefore keep watch, because you do not know on what day your Lord will come."
+ "Come, Lord Jesus!"
+ I refuse to play pin the tail on the antichrist or think much of any system that does.

That's about it. I've never really felt pressed to get any more specific than that.
Posted by Valerie (Kyriosity) at 12/12/2002 01:22:00 PM • • Permalink
---
Links to this post:
---
Home