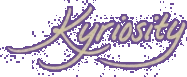 (KE'RE OS'I TE) N., A LONGING TO LOOK
INTO THE THINGS OF THE LORD [C.1996 < GK.
KYRIOS LORD + -ITY; IMIT. CURIOSITY]
Visit The Old Kyriosity Shop

Monday, December 09, 2002 AD

May I Crawl Under My Desk and Go to Sleep, Please?
I wonder if the dividing line between sanity and insanity is the awareness of how weird you'd look to other people if you actually did things like that. That's what keeps me from it on days like this.

I'm exhausted from yesterday, which was pretty hideous. I was printing the programs for the concert, with no time to spare for problems, when my printer decided to be uncooperative. I totally lost it and spent the next couple of hours in an out-of-control, screaming, cursing, throwing things rage. Nothing in the world can leave me feeling more defeated or hopeless than losing control like that. Especially when, at the beginning stages of it at least, I struggled to keep control and begged God to keep me from losing it. I turned into a monster anyway. Afterwards I spent the rest of the evening in tears and shame.

Time after time I hear stories of people who have been blessed with instantaneous freedom from anger problems (or other besetting sins). I can't help but ask piteously why He has never shown me that mercy. I can't help but despair that He ever will. I can't help but doubt that I am even regenerate. I can't help but think that when He gave a spirit of "power and love and self-control (or self-discipline, or a sound mind)," He skipped me, because I don't have that spirit, just this weak, ugly out-of-control one.
Posted by Valerie (Kyriosity) at 12/09/2002 01:41:00 PM • • Permalink
---
Links to this post:
---
Home