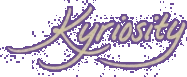 (KE'RE OS'I TE) N., A LONGING TO LOOK
INTO THE THINGS OF THE LORD [C.1996 < GK.
KYRIOS LORD + -ITY; IMIT. CURIOSITY]
Visit The Old Kyriosity Shop

Saturday, November 30, 2002 AD

What Infomercials Tempt You?
I confess a tendency to linger a while when the Miracle Blade 3 infomercial comes on. Especially this morning when I needed to give my hands a break from chopping two bags of potatoes for soup. I flipped on the tube and there was the Miracle Blade 3 (the New Perfection Series, don'tcha know).

So 'fess up. Which infomercials, past or present, have tempted you? And have you ever given in?
Posted by Valerie (Kyriosity) at 11/30/2002 12:07:00 PM • • Permalink
---
Links to this post:
---
Home