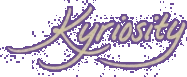 (KE'RE OS'I TE) N., A LONGING TO LOOK
INTO THE THINGS OF THE LORD [C.1996 < GK.
KYRIOS LORD + -ITY; IMIT. CURIOSITY]
Visit The Old Kyriosity Shop

Monday, November 11, 2002 AD

The Spelling Police
We interrupt this blog to bring you an important announcement from the Spelling Police:

There is no such word as woah. The correct spelling is whoa. I must have seen this word misspelled on blogs half a dozen times in the last couple days and I find it almost as maddening as the sound of cracking knuckles. (Ask Paulo for my opinion on cracking knuckles.) Anyway, I would deeply appreciate it if everyone would make an effort to keep this little orthographic tidbit in mind as you post and comment throughout the blogosphere. Thanks ever so!

We now return you to your regularly scheduled blog.
Posted by Valerie (Kyriosity) at 11/11/2002 11:03:00 PM • • Permalink
---
Links to this post:
---
Home