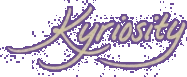 (KE'RE OS'I TE) N., A LONGING TO LOOK
INTO THE THINGS OF THE LORD [C.1996 < GK.
KYRIOS LORD + -ITY; IMIT. CURIOSITY]
Visit The Old Kyriosity Shop

Saturday, November 16, 2002 AD

Other Reading
I'm not as brave as Emeth to commit to reading a book a week, but I decided to post the title and start date to give myself a little more pressure to actually finish stuff I start reading. I started Cry, the Beloved Country today. Made it as far as the introduction and the word list at the back. I subvocalize when I read, so I always have to stop make sure I can pronounce each word. I'm generally pretty good at pronouncing languages if I can hear them. Unfortunately, I can't hear Afrikaans and Zulu and Xosa, or even the English pronunciations of the various words, so I'm going to find that a bit challenging.

On another note, does anybody have an opinion on which film adaptation of the book is most accurate?

And on yet another note, I've also added my Amazon wish list under Other Links.
Posted by Valerie (Kyriosity) at 11/16/2002 09:05:00 PM • • Permalink
---
Links to this post:
---
Home