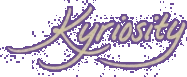 (KE'RE OS'I TE) N., A LONGING TO LOOK
INTO THE THINGS OF THE LORD [C.1996 < GK.
KYRIOS LORD + -ITY; IMIT. CURIOSITY]
Visit The Old Kyriosity Shop

Saturday, November 02, 2002 AD

My Ignorance Just Grows By Leaps and Bounds!
So in case you're reading this page top to bottom, and haven't yet gotten to the point where I mention seeing Gideon, Brian and Paulo this evening (Paulo has pix), please now be aware of that fact. We met at the 2002 Kuyper Lecture, which was so far over my head that I'm surprised it didn't require air traffic control. Noting like a good political discussion to make me feel like a moron! I did catch bits and pieces, though. Like when someone referred to the United States Catholic Conference, I was able to mutter to Brian that it is no longer called that, but is now called the United States Conference of Catholic Bishops. My knowledge of that point afforded me a moment's smug superiority. Another phrase I caught was a disparaging reference to "small-government fetishists." I found that somewhat ironic, since I was supposed to spend this weekend visiting my small-government fetishist friends at the Highlands Study Center in Virginia. Since my cold is lingering, mostly in the form of aching joints from head to toe, I decided not to go, which left me free to attend this lecture.

Of course more important than the lecture was getting to spend some quality time in good conversation with these three fine gents at the Towson Diner, even if they (the folks at the diner, not the three fine gents) didn't know that regular fried chicken wings are not the same thing as Buffalo wings. Topics included a whirlwind lesson on the evolution of the various Reformed denominations in the Netherlands and North America; neo-Calvinism; neon-Calvinism (day-glo TULIPS figure heavily in this theology); certain conversations Brian is planning to conduct on Saturday; the absolutely monstrous slice of lemon meringue pie that was served to Gideon; Paulo's gadget collection; pietism (which, with it's experiential emphasis, we decided might be another form of neon-Calvinism -- "Oooo! Look at all the bright colors! I must be saved now!"); our various family trees; the hodgepodge collection of foreign phrases we've managed to collect (I can ask for orange juice in hebrew, Paulo can ask for tea in Chinese); and (of course!) blogging. A dandy time was had by all!
Posted by Valerie (Kyriosity) at 11/02/2002 01:15:00 AM • • Permalink
---
Links to this post:
---
Home