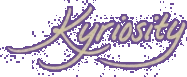 (KE'RE OS'I TE) N., A LONGING TO LOOK
INTO THE THINGS OF THE LORD [C.1996 < GK.
KYRIOS LORD + -ITY; IMIT. CURIOSITY]
Visit The Old Kyriosity Shop

Friday, October 18, 2002 AD

We Need People Physically Present in Our Lives.
The Church is not the spirit of Christ; the Church is the body of Christ. The Church is a physical manifestation of Christ. Therefore the members of the Church need to be physically present to one another. Trying to live by faith that Some Intangible Entity out there (the Church) loves me isn't enough. It isn't right. It isn't what the Church is called to be. The physical presence of the Church is supposed to be the tangible reminder that Some Intangible Person out there (God) loves me.

There's a story of a little boy who's afraid of a thunderstorm in the middle of the night. He cries for his daddy, who comes to him and says, "Don't worry, son. Jesus is here with you." The boy answers, "Yes, I know, Daddy, but I need somebody with skin on." The boy is absolutely right! He expressed a perfectly legitimate need. We need somebody with skin on. Paul did not exhort the Romans and the Corinthians and the Thessalonians to greet one another with a holy phone call or a holy e-mail, but with a holy kiss—a physical act. Whether or not we're supposed to obey that literally or in some more culturally acceptable way, one thing is clear about a kiss—it involves getting in each other's face.

The church should be a community. We should meet together daily. No, not necessarily in formal assembly, but no member of the body should have to go a day without contact with other members of the body. We are to encourage one another daily (Hebrews 3:13). We have forgotten that we have daily needs. We're supposed to pray, "Give us this day our daily bread" (another physical need), but we don't need more than a weekly trip to the supermarket. We think we can get away with that in regard to our fellowship needs, too. The Israelites in the desert were to gather only enough manna for each day (Exodus 16:19). They were to be daily reminded of their need and their dependence. We have forgotten our daily need for community.
Posted by Valerie (Kyriosity) at 10/18/2002 09:19:00 AM • • Permalink
---
Links to this post:
---
Home