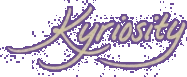 (KE'RE OS'I TE) N., A LONGING TO LOOK
INTO THE THINGS OF THE LORD [C.1996 < GK.
KYRIOS LORD + -ITY; IMIT. CURIOSITY]
Visit The Old Kyriosity Shop

Tuesday, October 22, 2002 AD

Thinking Outside the Box
The discovery of the box that might have held the bones of Jesus' brother James shouldn't make or break anyone's faith. For one thing, it proves nothing. Even if it is what it might be, it doesn't confirm in any way Jesus' claims. So I doubt there are any skeptics out there falling to their knees over this discovery, and I'm certainly not sitting here saying, "Phew! Sure glad they found that so my faith could be shored up."

But the thing is just plain nifty.

Do you ever watch Antiques Road Show? People bring in their old stuff and appraisers tell 'em what it's worth. I love yelling, "Sell it!" at the screen when some dubiously worthy piece gets a really high estimate. But what I really watch for are those times when there's an item with a story. Especially when the owner only knows half, and the appraiser's able to fill in the details. That's the way I feel about this box. If it is what it might be, then it's an artifact connected to the very best story of all.

The story makes the object valuable, not the other way around.
Posted by Valerie (Kyriosity) at 10/22/2002 01:40:00 AM • • Permalink
---
Links to this post:
---
Home