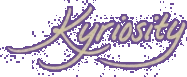 (KE'RE OS'I TE) N., A LONGING TO LOOK
INTO THE THINGS OF THE LORD [C.1996 < GK.
KYRIOS LORD + -ITY; IMIT. CURIOSITY]
Visit The Old Kyriosity Shop

Thursday, October 17, 2002 AD

And Topping the List of Capital Offenses in a World Ruled by Valerie, We Have...
...owning a car alarm. Especially one that goes off for no particular reason. Especially in the middle of the night. Especially repeatedly. Especially if it takes you forever to get out and turn the blasted thing off.

There goes my gentle and quiet spirit again, eh?
Posted by Valerie (Kyriosity) at 10/17/2002 12:24:00 AM • • Permalink
---
Links to this post:
---
Home