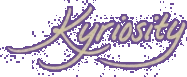 (KE'RE OS'I TE) N., A LONGING TO LOOK
INTO THE THINGS OF THE LORD [C.1996 < GK.
KYRIOS LORD + -ITY; IMIT. CURIOSITY]
Visit The Old Kyriosity Shop

Tuesday, September 10, 2002 AD

What Have I Gotten Myself Into?
Well, Rick liked his blog design and Rachel didn't care for hers, which is fine, but I'd hate to see those bunny slippers go to waste, so if anybody else wants 'em, let me know! And three other people have already asked me for designs. I think I'm going to follow in Emeth's footsteps and link to my Amazon wish list so grateful bloggers can buy me presents when I do designs for them. No specific rates -- just sort of a whatever-you-think-it's-worth-and-can-afford-and-if-it-ain't-nuthin'-that's-OK, "love offering" sort of thing. Of course then my services get to be of the no guarantee, whenever-the-muse-strikes-and-whenever-I-get-around-to-it-so-don't-hold-your-breath variety. If anyone else would like me to throw something together for you, send me a "starter image" -- a photo or other image that you'd like me to use to build the rest of the design around. I can work pretty quickly from something like that. I won't do anything too fancy with coding or layout -- I like the artsy side of things rather than the techie side.

Of course this means I'm going to have to actually put some stuff on my wish list and link to it. At this point I'm thinking movies and music. I can usually come up with a list of movies a mile long, but finding music I like is a little more difficult. Therefore I am soliciting recommendations. I prefer vocal music, of the sing-alongable variety. I just added some Gershwin CDs to my wish list, for instance. I'd love recommendations for good vocal hymn recordings. I like folk, but never know who's good. I don't need to be listening to tons of romantic songs, so please don't suggest an album full of "Oh, baby, I love you" numbers. Any ideas?
Posted by Valerie (Kyriosity) at 9/10/2002 09:37:00 PM • • Permalink
---
Links to this post:
---
Home