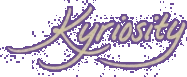 (KE'RE OS'I TE) N., A LONGING TO LOOK
INTO THE THINGS OF THE LORD [C.1996 < GK.
KYRIOS LORD + -ITY; IMIT. CURIOSITY]
Visit The Old Kyriosity Shop

Friday, September 13, 2002 AD

The Show Must Go On
(Sung "Moulin Rouge" fashion -- very grim.)

The axe has fallen on our department. I am spared, but three others are going, which is much more sad. And the department itself is being dismantled. I suspect those of us who are left will be reorganized under the president's office; we'll find out for sure this afternoon. Those of us who are left won't be spared forever. With war looming on the horizon, refugee resettlement numbers are not going to pick up, and without refugee resettlement income, we just won't have enough money to continue the other stuff we do on the same scale.

Anybody wanna hire a fair-to-middlin' graphic designer/webmaster/writer/editor?
Posted by Valerie (Kyriosity) at 9/13/2002 12:09:00 PM • • Permalink
---
Links to this post:
---
Home