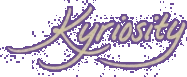 (KE'RE OS'I TE) N., A LONGING TO LOOK
INTO THE THINGS OF THE LORD [C.1996 < GK.
KYRIOS LORD + -ITY; IMIT. CURIOSITY]
Visit The Old Kyriosity Shop

Saturday, September 14, 2002 AD

My Two Sensus Plenior Wishes
Wish the Lesser: SP now includes the blog name in the e-mail notification of new comments. I wish it would also include some identification of the post. Some comments are vague enough that it's difficult to discern what they are responding to, so one sometimes has to click through the comments on several posts before that "Oh! Of course!" moment strikes.

Wish the Greater: SP stops noting the number of comments associated with a post after a certain number (how many?) more posts have been made. The comments are still there, but there's no indication of it. Prolific bloggers such as Rick, sometimes have posts just a few days old, that have actively ongoing conversations in the comments, but no indication that there are any comments at all. And of course if one is poking around in various archives, one does not know without clicking whether or not a post received any comments at all. I wish SP kept the number of comments visible ad infinitum.

But Sensus Plenior is still The Best Blog Comment System in the World!
Posted by Valerie (Kyriosity) at 9/14/2002 10:36:00 AM • • Permalink
---
Links to this post:
---
Home