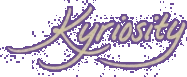 (KE'RE OS'I TE) N., A LONGING TO LOOK
INTO THE THINGS OF THE LORD [C.1996 < GK.
KYRIOS LORD + -ITY; IMIT. CURIOSITY]
Visit The Old Kyriosity Shop

Thursday, September 26, 2002 AD

I Gotta Stop Taking Bloggers at Their Word
What a blogger might say: "I'm going to give up this blogging business. It's sucking up too much of my time."
What he really means: "I'm going to keep on blogging pretty much the way I always have been, so don't delete me from your blog roll."


Posted by Valerie (Kyriosity) at 9/26/2002 07:29:00 AM • • Permalink
---
Links to this post:
---
Home